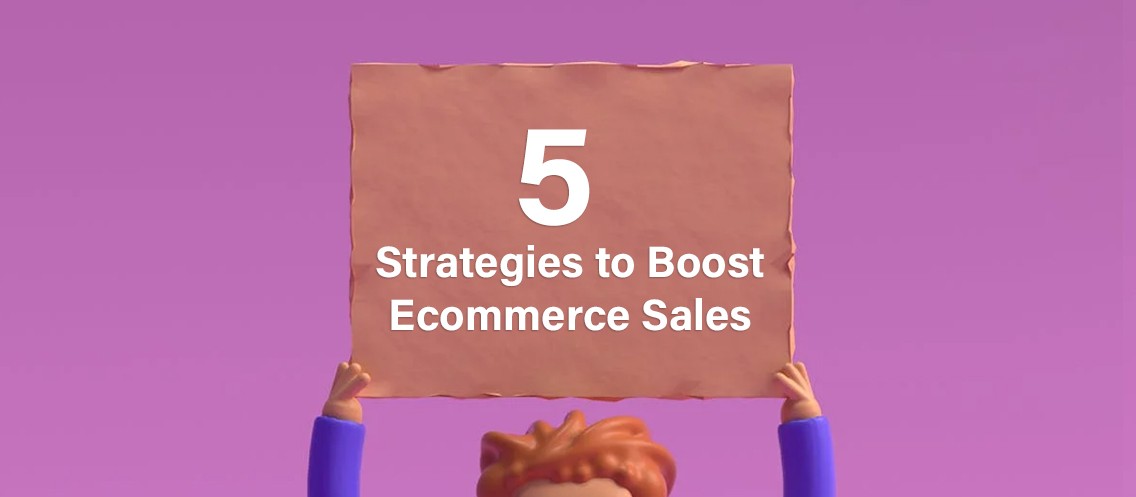 5 Proven Strategies to Boost Your Ecommerce Sales
Gil Perez, co-founder of BRADIENT, is a seasoned professional with a wealth of knowledge in design, SEO, development, and online marketing. With a deep understanding of these fields, he has been delivering successful projects and innovative solutions for years, always striving for excellence and delivering outstanding results for his clients.
Welcome to the world of eCommerce where competition is fierce and standing out can be a challenge. However, with the right strategies in place, you can drive sales and grow your business. In this article, we've compiled a list of 5 proven methods to help you improve your eCommerce sales and stay ahead of the game.
Starting an ecommerce store as an entrepreneur requires determination and resilience. To turn your vision into a reality, you need to develop a solid ecommerce plan.
Fortunately, boosting ecommerce sales and creating a thriving online business is not an impossible task. With the right mindset and willingness to learn, anyone can achieve success.
Many of today's successful ecommerce experts started from scratch and learned from their mistakes. Take advantage of their experience and climb the ranks to reach your goals!
Whether you're just starting out or looking to grow your existing store, these tactics will help you achieve your goals and stay ahead of the competition.
Create an email subscriber list
Employ scarcity as a motivator for action
Strengthen customer confidence through the use of social proof
Setup Upselling
Provide multiple payment choices, including Buy Now, Pay Later (BNPL)
1. Create an email subscriber list
Email marketing is a powerful tool for boosting ecommerce sales that is often underutilized. Having a strong email list allows for more targeted and effective retargeting, leading to higher conversion rates compared to social media platforms.
Acquiring customer information can be done organically by offering website discounts, incentivizing newsletter signups, adding sign-up boxes at checkout, and other similar tactics.
To maximize the potential of email marketing, personalize emails with greetings addressed to individual recipients and create audience-segmented email lists. When retargeting, it's important to exclude previous subscribers and provide new information. Consider investing in professional email hosting for your small business to enhance your email marketing efforts.
2. Employ scarcity as a motivator for action.
Rev up ecommerce sales with a sense of urgency through scarcity. Utilize tactics like displaying limited stock on product pages or sending emails about product scarcity to trigger customers' FOMO. Another approach is to create a competitive atmosphere by showing the number of people browsing or purchasing a product. By making your products appear as a rare commodity, you can drive ecommerce sales.
3. Strengthen customer confidence through the use of social proof.
Maximize the impact of social proof on your ecommerce store by showcasing positive reviews and aligning with relevant influencers. Social media plays a crucial role in shaping customers' perception and decision-making. Displaying authentic reviews, both positive and negative, adds credibility to your store. Partnering with influencers who resonate with your target audience can drive sales, but it's essential to ensure their image aligns with your product or brand.
4. Setup Upselling
Upselling is a strategy in ecommerce where a seller tries to sell a higher-end or more profitable product to a customer, either during the initial purchase or as a future opportunity. It can be done through personalized product recommendations, offering upgrades or complementary items, highlighting the benefits of a higher-end product, and more.
Boost sales by offering an upgrade. Upselling is an effective way to increase revenue and create strong customer relationships. It's easier than you think to implement, as there are many upsell apps available for platforms in Shopify, and more. A customer is likely to be tempted by an upgraded product if they are given a personalized recommendation, such as a larger coffee jar for just a few dollars more, while they're in the checkout process.
5. Provide multiple payment choices, including Buy Now, Pay Later (BNPL)
Providing customers with multiple payment options is a great way to increase sales and customer satisfaction. You can do this by offering Buy Now Pay Later (BNPL)
Provide a variety of payment options, including BNPL, to attract customers and increase eCommerce sales. BNPL options, such as Klarna, Pay, and Sezzle, offer flexible payment terms with low interest and limited fees, reducing the likelihood of cart abandonment. To maximize the benefits of BNPL options, make them visible early in the customer journey through banners and ads. It's crucial to choose the right payment gateway to avoid losing payments from customers.
Incorporating these 5 strategies - creating an email subscriber list, employing scarcity as a motivator for action, strengthening customer confidence through social proof, setting up upselling, and providing multiple payment choices including BNPL - into your eCommerce business can lead to a significant boost in sales. Utilizing email marketing to reach your target audience, implementing scarcity tactics to drive urgency, displaying customer reviews and influencer endorsements to build trust, offering product upgrades at checkout, and providing flexible payment options, including BNPL, can all contribute to a seamless customer experience and increase in conversions. By taking a comprehensive approach and continuously testing and refining these strategies, you can drive sustainable growth for your eCommerce store.
Talk to our digital specialists
Fill out the form below and we will contact you shortly.
BRADIENT
555 West 5th Street, 35th Floor
Los Angeles
,
 CA
 90013
Tel:
(844) 454-4218